The Project Roadmap – The Key to GMP Project Management
The Project Roadmap is a unique GMP project management solution that integrates the proven concepts of front-end loading (FEL) and "stage-gating" with GMP requirements. It is the GMP solution to an effective capital management process. It includes all the activities and interfaces necessary to ensure that a capital project satisfies user requirements and applicable regulations and is fully qualified for GMP use as soon as possible.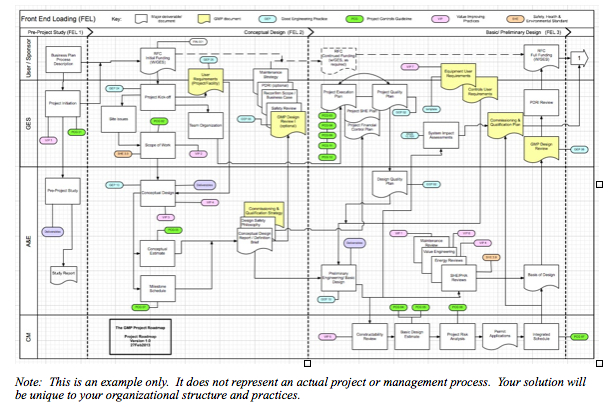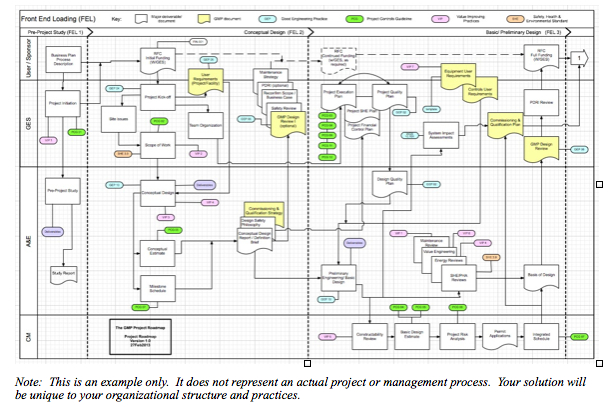 Research has shown that the single most important practice ensuring effective GMP project management, or any capital management, as measured by safety and return on assets, is a consistent capital management process (CMP). That process is enhanced by team development, front-end loading and strong project controls. The Roadmap facilitates all of these.
It is not the intent of the Roadmap to describe every project element. It describes the project life-cycle at an oversight level; however, there is enough detail to ensure that a project starts out right and stays on track. There are 100 or more items or nodes that represent major activities and deliverables. Each of these may comprise significantly greater detail. Embedded hyper-links will lead the user to further description, guidance and/or reference material requiring only one or two "clicks". The guidance can be derived from your existing project manual or knowledge base or we can help you to develop it.
Posted on your project web page, the Roadmap flows in a manner intended to approximate the sequence of a normal project. It is not, however, a CPM or PERT-type schedule. The arrows and connectors are not to be interpreted as pre-cursor/successor relationships, although in some cases it might be useful to treat them as such. (This is particularly so when reaching a CMP stage-gate).
Horizontal segments ("swim lanes") are intended to help organize the project work flow into a logical pattern depending upon the type of work and skill set being applied. These are not intended to dictate which specific group has authority or responsibility over the work. Cross-functional collaboration is encouraged at every stage. In general, it is best way for a Project Manager to view the Roadmap in a "top down" manner, examining the requirements of the entire integrated project team during the phase being executed.
The Roadmap is scalable and flexible depending upon project type, size and complexity. Nodes may be combined or, if properly considered, even skipped. It provides a consistent GMP project management approach across your company that is unique to your organization and way of managing projects.